Device for intradermal injection of vaccines

(in development)
Introduction of Device for intradermal injection of vaccines (in development)
Introduction of Device for intradermal injection of vaccines (in development)
Device for intradermal injection of vaccines (in development)
Lightnix is currently developing a new device for the intradermal injection of vaccines
Our goal is to create a device that enables simple, stable injection of vaccines into the skin, an area of tissue that is rich in immune cells.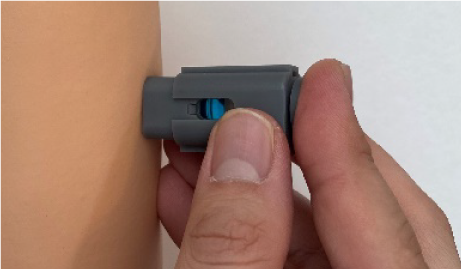 Image of Lightnix's intradermal injection device
Concept
An intradermal (ID) injection device that maintains a level of efficacy similar to intramuscular (IM) injections even with a smaller dose of the vaccine
Although ID injections were generally considered difficult, our goal of development is to enable simple, stable injections simply by pressing the device into the skin, like a stamp
The needle uses our original "PINNIX Light" technology, which is the world's first resin lancet needle. This environment-friendly needle is made from a biodegradable resin.
Status of development
Device development began in 2019, when the Japanese government adopted the project. We recently moved from the pre-clinical stage to the clinical stage, and we are investigating collaborations with pharmaceutical companies.
Adopted as part of the AMED (Japan Agency for Medical Research and Development) Project
Began from the conceptual phase; conducted a survey of needs and defined requirements, and in 2021, confirmed POC (similar levels of IgG production volume compared to IM, at 1/5th the antigen volume) through animal testing
Moving forward, we are conducting development with a view toward starting up clinical trials jointly with pharmaceutical companies.
Comparative evaluation of immune response based on Lightnix's device and existing injection routes
(Antigen: OVA; Intradermal injection group administered 1/5th the volume of the intramuscular injection group)
Advantages of intradermal injections
Vaccines are injected directly into the skin, so dosages can be reduced substantially
The WHO has reported that because the skin contains large numbers of immune cells, vaccine activation is higher for intradermal injections than for either intramuscular or subcutaneous injections, which are the conventional injection routes. (Ref. diagram below)
Using intradermal injections can be expected to substantially reduce required vaccine volumes
Source: (Left) WHO, PATH, Intradermal Delivery of Vaccines Report, 2009
<Intradermal-delivery-vaccines_report_2009-Sept.pdf (who.int)>
(Right) GVIRF: Global Vaccine & Immunization Research Forum
It has been reported that with intradermal injections, a similar or higher level of vaccine activation can be achieved as compared to intramuscular injections, even when the vaccine dosage is reduced to 1/5th.
In Thailand, the Thai Red Cross recommends using intradermal injections for administering rabies vaccines, and in fact has successfully reduced vaccine usage volumes by 80%. (Vaccine. 2006 Apr 12;24(16):3084-6.).
Comparison of vaccine activation using intramuscular (IM) vs. intradermal (ID) injections

Comparison of influenza vaccine dosages:
intramuscular (IM) vs. intradermal (ID) injections
Source: (Left) WHO presentation, Global Vaccine Research Forum 2006;
(Center/right): N Engl J Med 2004; 351 : 2295 – 301)
<https://www.nejm.org/doi/full/10.1056/NEJMoa043540>
Given that pandemics similar to COVID-19 are expected to occur in the future, it will be possible to vaccinate even larger numbers of people in the pandemics.
Reductions in vaccine costs are also expected to increase global vaccination rates, including developing nations.
Intradermal injections require advanced skills
Although they offer many advantages, intradermal injections are not broadly used for vaccinations
Intradermal injections require the vaccine to be injected into a very shallow area of the skin, so the needle must be inserted almost horizontally. Furthermore, the target area is only 1-2mm thick (ref. the diagram below), so healthcare workers must undergo extensive training to acquire the skills necessary to ensure an effective injection. For this reason, intradermal injections are rarely used for vaccinations, even in the front lines of healthcare in advanced nations (according to the results of a survey of local healthcare institutions conducted by Lightnix as part of the AMED Project).
Comparison of injection methods:
Intramuscular (IM),
subcutaneous (SC),
and intradermal (ID)

During (left) and after (right)
intradermal injection
Source: (Left) WHO, PATH, Intradermal Delivery of Vaccines Report, 2009
<Intradermal-delivery-vaccines_report_2009-Sept.pdf (who.int)>
(Right)
Societal issues related to vaccines
There are a variety of issues related to vaccines worldwide. Lightnix's goal is to assist in resolving these societal issues through the development of intradermal injection devices.
Disparity in vaccine supply volumes between advanced and developing nations
Supplies of the COVID-19 vaccine are still limited, and this has led to a disparity in which richer nations are able to secure large volumes of the vaccine, but developing nations are unable to access sufficient supplies.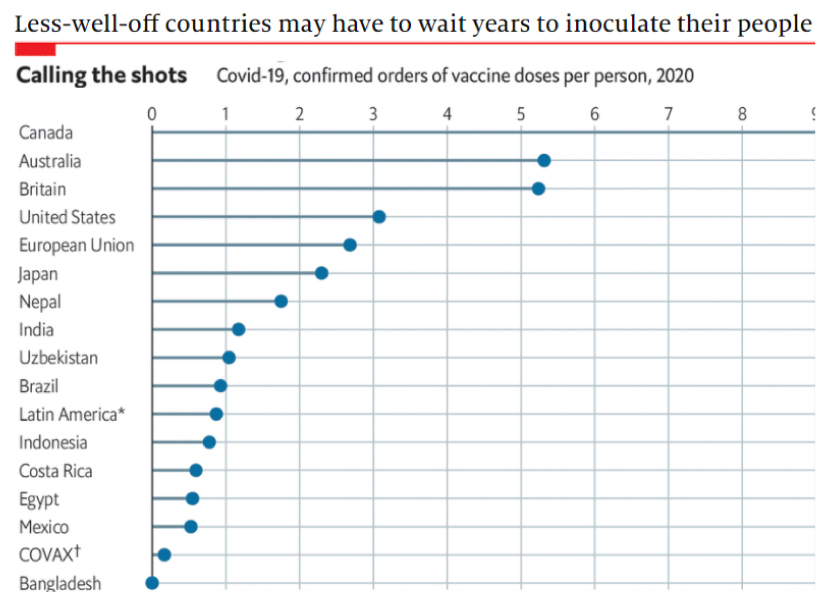 Source: The Economist, Rich countries grab half of projected covid-19 vaccine supply
<https://www.economist.com/graphic-detail/2020/11/12/rich-countries-grab-half-of-projected-covid-19-vaccine-supply>
Diseases that are treatable in advanced nations account for 40% of deaths among children aged 0 to 4 in developing nations. This is due to the limited access to vaccines in developing nations resulting mainly from the high cost of those vaccines.
Causes of death worldwide;
Age 0~4

Movement in cost of regular vaccinations
as recommended by WHO
(per person)
Shortage of healthcare workers able to administer vaccines
There is a shortage of healthcare workers who can administer vaccines to large numbers of people at once, as in the case of COVID-19. Vaccine preparations and other prior preparations also present a burden, so there is a demand for injection devices that are easy to use and require minimal preparation.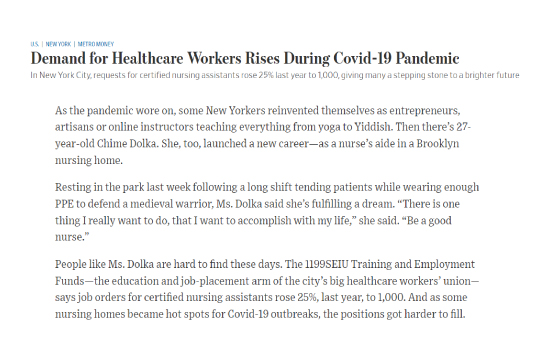 Source: The Wall Street Journal, Demand for Healthcare Workers Rises During Covid-19 Pandemic
<https://www.wsj.com/articles/demand-for-healthcare-workers-rises-during-covid-19-pandemic-11616508000>
Issues in the disposal of vaccine injection devices
The disposal of needles after use is a major issue in developing nations
Illegal disposal
Metal needles that cannot be incinerated end up as environmental pollution
Illegal disposal leads to secondary infection